Riverdale Park (park oven)
The secret oven
This park is an example of how NOT to run a bake oven.
In 2012, Sandy Straw, the Parks manager (now retired) wrote that the Riverdale oven was used 31 times, including every Tuesday for the farmers' market except when it was raining (11 times) or smoggy. But the farmers from the market said they couldn't remember any use. Now the riddle is solved: the oven is run mostly when nobody can see.
For example: On June 4, a wonderfully sunny market day, at 4.15 pm, the farmers' market was on but the bake-oven door was closed. However, there was shimmering heat still coming out of the chimney. Picnic tables were placed in a tight semicircle around the oven, allowing no one to get closer than about 15 feet. Staff said they had finished making pizza (this was still more than three hours before the end of the market) and they were just letting the remaining coals burn down.
One of the staff offered to let a visitor come and see inside the oven, and he opened the oven doors to show the coals. But almost immediately another staff told the visitor to back away "you were told before to stay outside the picnic tables!" She said that there is a city policy against letting people look into the oven when it's lit. No one else at the market was coming to see the oven -- since there was plainly nothing to see.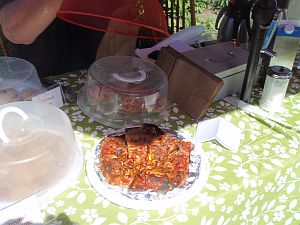 two plates of pizza: $98.40?
At the market manager's table, there were two plates of pizza offered for sale. No one appeared to be buying any at that point, perhaps because the market was not busy despite the fine weather.
In her 2012 bake oven report, the Parks manager wrote that there is a staff person assigned to work the oven for about 8 hours per baking, at $12.30 per hour. If the eight hours include the food preparation as well as being at the oven, then that means the cost of making two plates of pizza would have been $98.40, not counting the cost of the ingredients or the firewood. And no show-and-tell at the oven. Sad.
Manager's report: Riverdale Farm 2012 Bake Oven Information
---